About Workout DJ
With the Workout DJ feature you can play music of your choice from your media library automatically everytime you start your workout. You only have to set this up once and Workout DJ will start the right music for your every time you workout. Advanced features allow you to set a specific action such as lower volume, pause music, or even change music durning the rest phase of your workout.
Note: Workout DJ is always optional. You can choose to turn it off, and simply play music from your iPod app, or not play music at all.
The table below describes the various settings for Workout DJ.
Name
Description

Workout DJ On/Off
Turn on to use Workout DJ, or off to disable it and/or to use music from the iPod App.

Work Music (high interval, round)
Sets the music to play during the Work phase of your workout. Tap to be presented with a list of playlists available on your device. You can also choose All Music. The playlist you select will be played when in the work phase. If you modify this playlist in the iPod app by adding songs etc. it will take effect in Workout DJ.

Rest Music (low interval)

Sets the music to play or action to take during rest phase of your workout.

Actions:

Keep Playing - Nothing changes during rest phase.
Lower Volume - Volume is lowered by 50% during rest phase.
Pause - Music is paused during rest phase, and resumes on next work phase where music left off.
Stop - Music is stopped during rest phase, and restarts on next work phase.

Music: Select a specific playlist, or all music. Music will be changed to this selection during rest phase.


Shuffle
Turn on to shuffle your music, or off to always play in sequence.

Volume
Slide the slider to increase/decrease music volume.
Controlling Music During Session
Workout DJ uses the iPod app to play your music during your workout session, therefore you can use all of the iPod app features to control music during your session.
If your screen is locked:
Double click the home button.
Use the controls shown on the lock screen to change music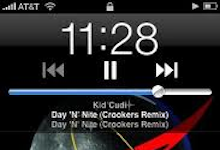 From inside the app, or If the app is running in the background:
Double click the home button.
Swipe to the right on the most recently used app icons that appear at the bottom of the screen to reveal the media controls.
Note: You can also use Airplay to change where to play the music, and remote controls on your headset to control music.
Last Updated: 5/16/2019