Using an External Display
About External Display Support
This app is designed to display video out to an external display. When you connect your device to an external display, it will show a screen specially designed for large/external displays.
AirPlay Wirelessly to Apple TV
Use Apple TV to wirelessly connect to an external display and enjoy the video out features of your SimpleTouch app.
Note: To use this feature you must have a device that is compatible with AirPlay mirroring. (iPhone 4s or later, iPad 2 or later ) and your device must be on the same WiFi network as your Apple TV.
To use Apple TV as an external display using AirPlay, follow these steps:
Make sure your device and Apple TV are connected to the same WiFi network.
Double click your home button.
Swipe to the right until you see the controls as shown in the image below.
Press the AirPlay button marked in the image below to bring up the AirPlay screen.
In the AirPlay screen select your Apple TV.
Switch the mirroring switch to "ON"
Launch the app you would like to use with external display (the app with automatically detect the Apple TV)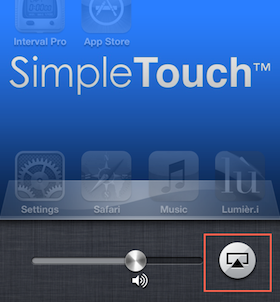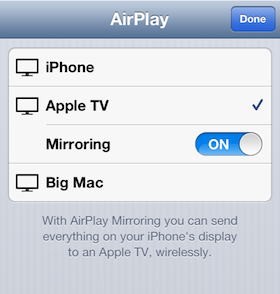 Using Connectors
Use the Apple Digital AV Adapter or VGA Adapter to connect your iPad, iPhone 4 or iPod touch (4 generation) to an external TV, projector or display to enjoy the video out features. Below is a summary of the connectors and devices compatible with this feature:
For the best experience, we recommend a display with a minimum resolution of 1024x768, lower resolutions are not supported. The VGA or Digital AV Adapter connected to an iPhone will provide the best experience.
Using An External Display
We have made it seamless to use an external display with your apps. Connect the display either before or while the app is running, and everything will just work.
Note: When you connect the cable you may have to wait a few seconds for the app to make a connection.